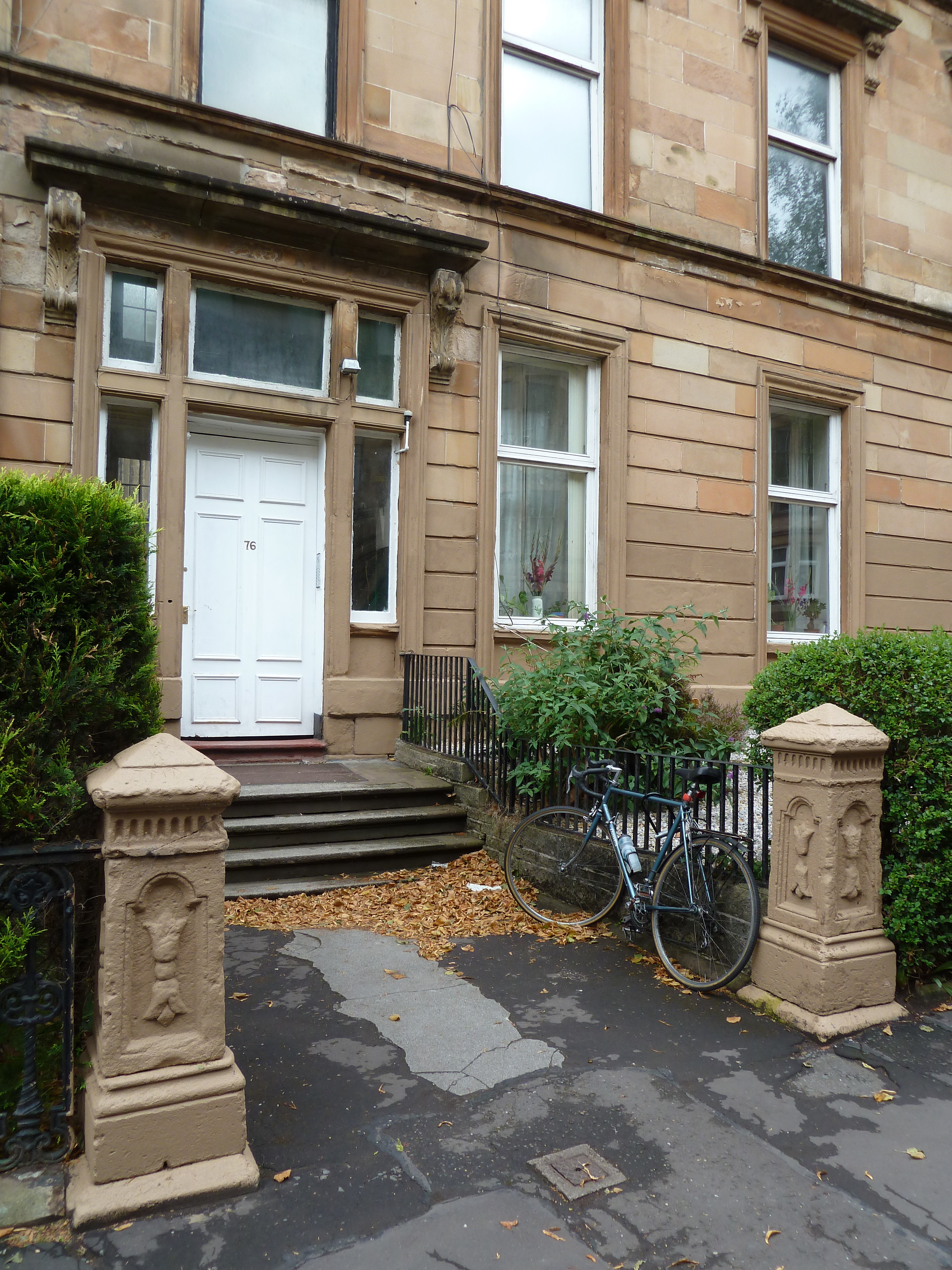 5 Spring Gardens, North Kelvinside
now 76 Clouston Street, formerly 76 Montgomerie Street

No occupants given until 1879
1879-80 Colville, James, M.A., D.Sc., English Master, Glasgow Academy, Kelvinbridge
1879-97 Scott, James, metal broker, 80 Buchanan Street
1879-81 Moir, James, M.A., head classical master, Glasgow Academy, Kelvinbridge
1879-82 Richmond, Wm.
1880-1903 MacLean, John Dalziel, teacher, High School
1882-84 Clark, Andrew, resident secretary Guardian Fire and Life Assurance Co., 190 West George St.
1882-1903 Davidson, Thomas jun. (Thos. Davidson, jun. & Co., clay merchants & tobacco pipe manufacturers, Caledonia Pipe Works, 33-41 Garngad Hill)
1885-87 Patterson, Rev. Sutton, curate, St. Mary's Episcopal Church
1889-97 Marshall, James, miller, sole proprietor of "Marshall's Semolina", "Farola", "Granola", 22 Adelphi Terrace
1897 Bissett, Robt., house factor, 96 Renfield St.
1897 Bissett, Wm. (of Alex. Bissett & Sons, cabinetmakers and upholsterers, 235 Hope St.)
1897-1901 Scott, Mrs. James
1901 Smith, James (Ross & Co., wholesale agents & merchants, electric bells, indicators, lighting, 62 Robertson St.)
1902-13 Lee, T. Morton (at Malcom Fraser, accountant and stockbroker, 34 W. George St.)
1904-13 Brand, Geo. M. (of Brand & Lithgow, architects and surveyors, 131 West Regent St.)
1913 French, James A., C.A. (of French & Cowan, chartered accountants, 116 Hope St.)
Next door to 6 Spring Gardens (72 Clouston Street)
Around the corner to 1 Spring Gardens (277 Garrioch Road)
Across Clouston Sreet to 3 Garrioch Gardens (79 Clouston St.)
Across Garrioch Road, Kirklee Bridge & Wyndham Street to 61 Kirklee Road
Back to Spring Gardens Numbers
Back to Clouston Street Numbers