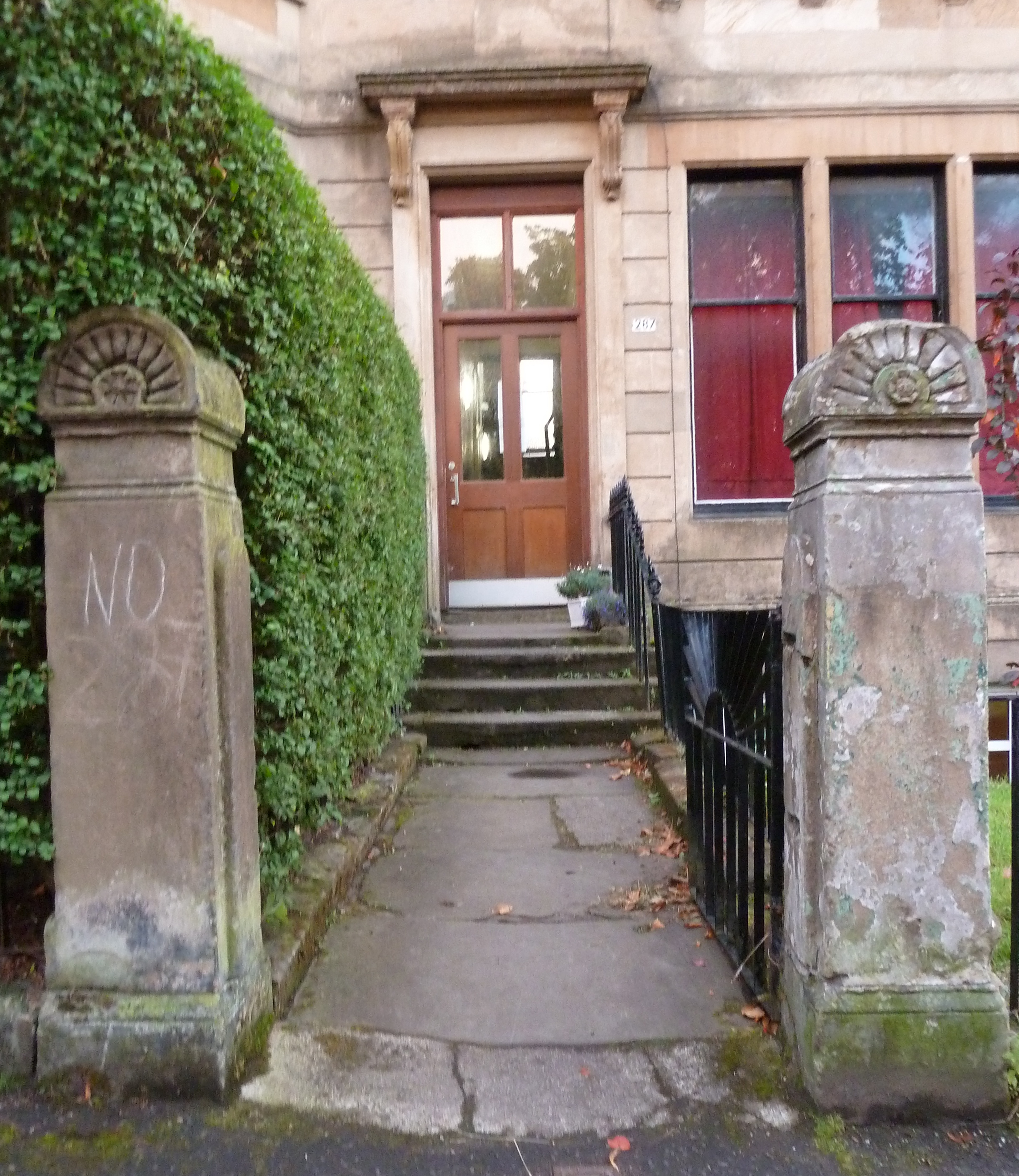 2 Kelvinside Terrace (North), N. Kelvinside
Now known as 287 Wilton Street

No occupants given until 1874
1874-79 Christie, James R.B. (of Christie Brothers, merchants and commission agents, 133 St. Vincent St.)
1874-79 Stoddart, John (of James & George Stoddart, wine merchants, 80 West Nile St.)
1875-90 Beckett, Rev. Wm., senior minister, U.P. Church, Rutherglen
1875-76 MacArthur, John (of MacArthur & Tannahill, yarn merchants, 36 West George Street)
1876-85 MacArthur, Mrs.
1880-83 Steven, Mrs. R.
1881-84 Botwood, Edward
1885-98 Torrance, J. Watt (of J. Watt Torrance & Co., timber merchants, importers of railway sleepers, pitwood, hoops, American hardwoods, &c., 81 St. Vincent St.)
1887-90 Langlands, James S. (of R. Langlands & Son, commission agents and merchants, 43 Virginia Street)
1887-88 Smith, James (of James Smith & Co., coalmasters, 125 Buchanan Street)
1889-1911 Beckett, Charles E., M.A., LL.B., writer, 163 St. Vincent St.
1890-96 McOnie, John, sen. (of John McOnie & Son, butchers, 184 Cowcaddens St.)
1891-92 Craig, Rev. J. Kerr, minister Frederick Street U.P. Church
1894-96 Hendry, P.D. (of Paton & Hendry, shipbrokers, 2 Oswald St.)
1896-1902 Mann, Charles, secretary (Young's Paraffin Co. Ltd., manufacturing chemists & makers of crude oil, refined, burning & lubricating oils, candles, solid paraffin, sulphate of ammonia, paraffin lamps, &c., 7 West George St. ; works, Addiewell, Bathgate & Uphall ; sales depot, 50 George Square)
1897-1902 Liddell, James (of Liddell Brothers, commission merchants, 73 Virginia St.)
1902-03 Blackwood, F.H. (of Blackwood & Lamb, merchants & commission agents, 19 Waterloo St.)
1902-10 Pringle, Mrs. Quintin
1903-12 Denham, Walter, F.F.A., F.I.A.
1903-12 Denham, Mrs.
1904-10 Denham, William S., B.Sc., F.I.C., lecturer in chemistry, Technical college, 204 George St.
1907-08 Melliss, M.S., iron and steel merchant and broker, 11 Bothwell St.
1908-12 Sloan, John B. (of Robert Sloan & Son, fleshers, 217 Argyle St.)
1910 Maxwell, J. Shaw (of Shaw Maxwell Ltd., engravers, printers, lithographers & paper bag makers, 152 Sauchiehall St.)
Next door to 1 Kelvinside Terrace (North) (291 Wilton Street) Next door to 3 Kelvinside Terrace (North) (283 Wilton Street)
Back to Wilton Street Numbers